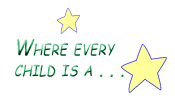 Admission
Policy
Bright Star Preschool/Child Development Center is open to all children (regardless of race, nationality, creed, or sex) who may benefit from this program.
If we feel the program is not right for your child, we will try our very best to make recommendations and referrals.
Requirements
- Children 2 – 6 years old. He or she does not need to be toilet trained.